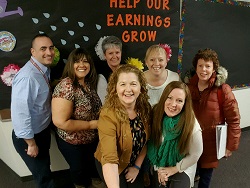 L to R - Brad Buys, Rebecca Humphreys, Judy Paine, Tamara Tinner,
Patina Fieken, Lisa Marti and Mary Parker
BOARD MEMBER BIO'S:
PRESIDENT— Patina Fieken
Patina works at Hopkins Elementary as full-time Instructional Assistant.  Both her boys went to Hopkins from Kindergarten through 5th grade, so she has been affiliated with the school for quite some time.  As an employee, she started working with the district through a program called Sherwood Educational Volunteers (SEV) in 2003, then, on the last day of school in June 2006, she was invited to take over her current position.
She has been the OSEA Building Representative at Hopkins for many years and in 2014/2015 served as Co-President for OSEA.  Patina is very excited to serve as your President and will strive to do her best in this position and represent all Classified employees.
CO-PRESIDENT—Judy Paine
Judy has been with the District for 16 years and has spent all of them at Hopkins!  She has raised two wonderful boys, and now has a precious grandson that she adores and spends as much time as possible visiting and spoiling him!  She likes to go camping with her family, spending time outdoors, enjoys reading, crossword puzzles, and jigsaw puzzles in the dreary winter months.
VICE PRESIDENT—Rebecca Humphreys
Rebecca works in the Technology Department as the Data Support Specialist for the district.  Prior to this position she was the Administrative Assistant for the Teaching and Learning Department for six years.  She loves working for the school district for many reasons, but one of her favorites is that it allows her to see her children during the day.  Justin graduated from SHS in June and Anthony is currently a Junior.  She is active in community events including Egg Hunt for Hope and Relay for Life.  she also enjoys traveling, reading historical novels and spending the day in Portland walking around and studying the architecture!
CO-VICE PRESIDENT - Brad Buys
Brad is the Network Engineer for Sherwood Schools.  He has been in this position for fifteen years and is assigned to the Technology office.  He is happily married to a wonderful woman named Monica and they have two daughters, Kaitlyn and Makenna.  Both girls attend school in Sherwood and Kaitlyn will graduate in June.  Brad is also an excellent trumpet player and often participates in Sherwood's Robin Hood Festival parade!
SECRETARY—Lisa Marti
Lisa is currently the Secretary for Hopkins Elementary, which is a new role for her this year and she is loving being in the heart of the school!  She has been with the district since 2010 and a Sherwood resident for about 18 years.  She has been married for 22 years and has two daughters, an 8th grader and a Junior in high school.  She enjoys baking, skiing, hiking and spending time with friends and family.  She is looking forward to serving on the OSEA board this term!
PUBLIC RELATIONS—Mary Parker
Mary has lived in Sherwood for 20 years and worked at Archer Glen for 17 years as an Instructional Assistant.  She has two grown children who went through Sherwood schools.  She enjoys camping, traveling and long walks with her two golden retrievers, Tom and Huck.  She also enjoys reading a good book and relaxing at her family's cabin at Black Butte Ranch!
TREASURER—Tamara Tinner
Tamara has been employed by the district since March 1999.  She previously held the positions of Payroll/Benefits Specialist and Accounts Payable.  In 2006 she was promoted to her current posiiton Accountant/Purchasing.  Some of her duties include Purchasing, Substitute Coordinator, Construction Accounting, Certified Payroll and backup to Accounts Payable and Payroll.  Prior to working for the district Tamara worked for Wells Fargo Bank and Pacific Soil as a Senior Accountant.
She has four awesome children;  David 26 yrs, Vanessa 25 yrs, Tazz 22 yrs and Henry, 3 yrs.  She has been blessed with a wonderful husband, Kevin and three beautiful grandchildren Quinton, 8, Raiden, 2 and Zoei, 5 months.
In her spare time she enjoys family, friends, bible study, camping, crafts, bike rides and antique cars.  Something fun to know about Tamara is she likes fun dress socks, especially during the holidays!